Are you in search of the perfect Manicure?  We offer the best using the most all natural products to make your hands and nails truly shine!  Your hands will thank you for weeks to come!
Take a moment to review what we have to offer and find out exactly what you need!
Eminence Manicure $62 : This Manicure is the ultimate in luxury. Our Eminence Organic Skin Care products will help firm your skin and fight the signs of aging while the hot towels and mask will give your hands the rest they deserve.
The Retreat Manicure: $52  Treat your hands to an invigorating exfoliation and relaxing massage with your choice of our wide selection of Hempz products that will make your hands feel revitalized and luminous.
Manicure 12 and under $32 : Our miniature version of The Retreat Manicure includes a soak and cleanse, moisturizing massage, nail shape and paint.
New Gel Polish Application $21+
Manicure Enhancements
Gel Polish added to service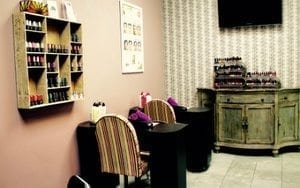 For more information concerning our salon and spa, or to schedule your own personalized appointment with us, please call The Retreat at 780-998-0922.